The end of the year is enjoyable not just because of all the fun holidays, but also because of all the movies that we get to see. They are not those lame movies either that usually come out in the middle of March or August or one of the other lame movie months, they are great movies that one can actually enjoy. Recently I saw two of these movies and they were great! I am not usually a person who goes out and sees a movie the first weekend it comes I also usually wait until it hits a dollar theater, and then on Tuesday nights I go to the 50 cent showing of those movies at the dollar theater, (yes I am a cheapskate) but a good movie, I am willing to go to the $5.50 matinee.
The first film I saw was Avatar. This movie is getting great reviews from all sorts of people, I have to fully agree with those reviews. If you are living under a rock and for some reason this is your only form a communication which means you have not heard from anyone about this great film, I will give a short background on the story. It is your typical bad guy turns good guy film, much like Dances for Wolves or the Last Samurai, only it takes place on a world call Pandora between humans and the natives of this world called the Na'vi. The film is called Avatar because the humans have the ability to create genetically altered bodies of these Na'vi and the humans control these bodies as if they were actually that being. The idea of an avatar is a being with the consciousness of another being, like ancient religious ideas of a god taking the form of a mortal, that is why the movie is called Avatar. Well the main character ends up getting in to a tribe of these Na'vi, falls in love with a girl, and then fights with them to save this world from the evil humans.
The movie has incredible action scenes, stunning camera shots with special effects, and a nice flow to the story. The story was fairly predictable and there was no actor that stood out as an Oscar potential and the dialog was actually quite bland, but it was a good movie and I recommend anyone to go see it. I would give this movie 4/5. They actually had to invent new movie making techniques and technologies to make this movie which are expected to revolutionize the movie industry.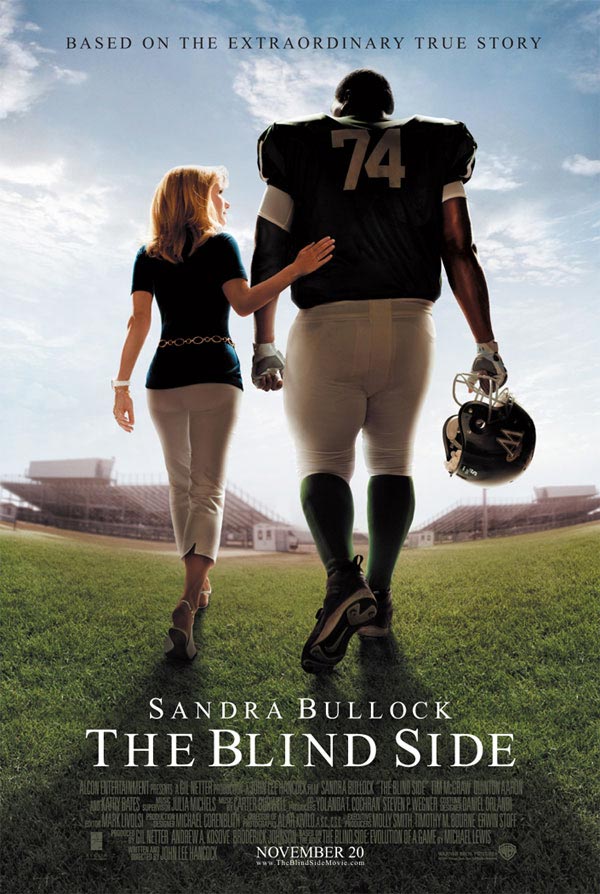 The next film I saw this holiday break was The Blind Side. This was by far my favorite movie of 2009. The movie is actually based on a true story of NFL player Michael Oher and his struggles growing up before he entered the NFL. I really have no complaints about this movie. The actors were perfect for their parts, the story kept you in your seat, and the dramatic timing was perfect. This is saying a lot, considering I got to the theater exactly when the previews started, all of the good seats were taken, so my friend and I sat on the second row on the far left side. I had to crook my neck to watch the entire film, after about ten minutes in to the film I was so glued to the sliver screen that I forgot about my neck position. Sandra Bullock plays the female lead and I definitely think she will be getting an Oscar nomination for her role. This film gets 5/5.
The film deals a lot with good values to help others since the main family in the movie takes in Michael Oher who literally has nothing. The film deals a lot with racial issues and shows how those can be greatly overcome. It also gives hope to anyone in a hard situation.
I am trying to figure out what it is about real stories in movies that make these kind of movies so good. It could be the drama or anything like that, but I also think that we can actually connect with these films, because it is real life, the stories have actually happened and they inspire us in so many ways. I hope more movies like The Blind Side are created, I just love these kind of movies so much.
Get out there and go see some good movies, there are a lot of good ones out there for crazy college students to full blown families. You will love the time to just get away from life for a while.